When Rob Gronkowski retired for a second time, many suspected the June transaction would also lead to another temporary step away from football. The future Hall of Fame tight end made an effort to postpone his Canton timeline again recently.
Gronkowski, 33, contacted the Buccaneers about unretiring last month, and Rick Stroud of the Tampa Bay Times reports the team and the two-year Buccaneer engaged in several conversations about a potential return. The Bucs both gave Gronk an option of returning on the active roster or the practice squad, the latter in the increasingly popular ramp-up scenario, per Stroud.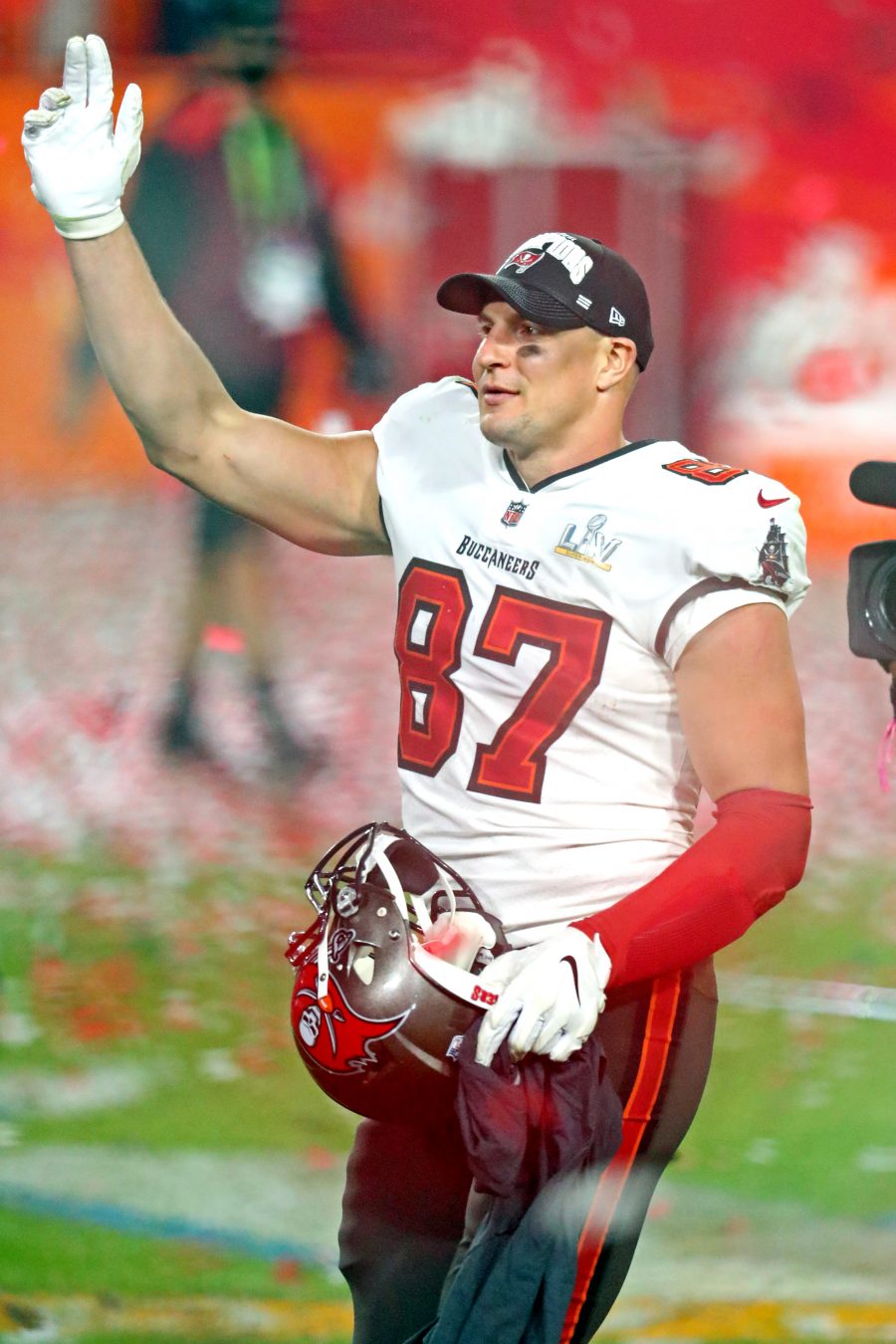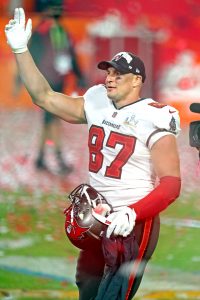 While the 11-year veteran said he had been working out on his own and cited boredom with not playing football — a prediction that was not too difficult to make given his past — he will remain retired at this point. Gronk had said in July he was done, and a September report also indicated he was staying retired. Now? The door appears slightly ajar to another return.
"It was more of a conversation than anything else," Bucs coach Todd Bowles said, via Stroud. "Usually, when you have to think about playing, you probably don't want to play. When it's just a discussion, I didn't think much of it at the time."
The Bucs' offense could certainly use all the help available. It has dropped from second in scoring in 2021 to 28th this year, falling from 30.1 points per game to 17.6. Tom Brady's QBR has plummeted outside the top 20, this coming after he led the league in touchdown passes and passing yards last season — en route to second-team All-Pro honors. Brady's QBR figure is his worst in the 17-season QBR era, and his timing with wideouts — particularly Mike Evans — has been off.
Tampa Bay has not effectively replaced Gronkowski, who totaled 802 receiving yards — his most since 2017 — last season. Gronk's first unretirement, which keyed a 2020 trade with the Patriots, played a significant role in the Bucs claiming their second Super Bowl title two years ago. Injury issues led to his 2019 exit, and the four-time All-Pro pass catcher did miss five games due to injuries — fractured ribs and a punctured lung — last season. The All-Decade performer remained one of the league's best tight ends, however, and has proven impossible to replace.
Although longtime Bucs tight end Cameron Brate remains on the roster, a scary concussion scene paused his season. Brate has been limited to nine games. Rookie Cade Otton leads Bucs tight ends with 357 receiving yards. Brady's QBR dipped during Gronk's first retirement as well, and while Evans and Chris Godwin helped reinvigorate the all-time great, Brady's longtime go-to weapon played a lead role in doing so as well.
News of Gronk's unretirement attempt does come not long after he said Brady's best place next season may be with him at FOX. Should Brady retire, he has a 10-year FOX agreement waiting for him. This latest Gronk-NFL connection, however, keeps the door on his own career. Gronk has said at points he only wishes to team up with Brady, though he was connected to the Bengals and Bills this offseason. With the 23rd-year veteran open to playing in 2023 and unlikely to re-sign with the Bucs if he does decide to stay in the NFL, Gronk — even ahead of what would be his age-34 season — could be an interesting variable in 2023's free agent market.
View more on Youtube Rob Gronkowski on Tom Brady Unretiring, Getting That Million Dollar Catch Bonus & His NFL Future
Rob talks about the Kardashians, watching "Hard Knocks" on HBO, his four brothers, traveling around and partying with them, being given the nickname Gronk as soon as he entered the NFL, Brady unretiring, his future in the NFL, and Tom Brady throwing him a pass to help him hit his million dollar bonus and "The Kids Choice Awards."
SUBSCRIBE to get the latest #Kimmel: http://bit.ly/JKLSubscribe
Watch Mean Tweets: http://bit.ly/KimmelMT10
Connect with Jimmy Kimmel Live Online:
Visit the Jimmy Kimmel Live WEBSITE: http://bit.ly/JKLWebsite
Like Jimmy Kimmel on FACEBOOK: http://bit.ly/KimmelFB
Like Jimmy Kimmel Live on FACEBOOK: http://bit.ly/JKLFacebook
Follow @JimmyKimmel on TWITTER: http://bit.ly/KimmelTW
Follow Jimmy Kimmel Live on TWITTER: http://bit.ly/JKLTwitter
Follow Jimmy Kimmel Live on INSTAGRAM: http://bit.ly/JKLInstagram
About Jimmy Kimmel Live:
Jimmy Kimmel serves as host and executive producer of Emmy®-nominated "Jimmy Kimmel Live!," ABC's late-night talk show. "Jimmy Kimmel Live!" is well known for its huge viral video successes, with over 11 billion views and more than 15 million subscribers on the show's YouTube channel. Some of Kimmel's most popular comedy bits include "Celebrities Read Mean Tweets," "Lie Witness News," "Unnecessary Censorship," "Halloween Candy YouTube Challenge," and music videos like "I (Wanna) Channing All Over Your Tatum."